This Tomato Basil and Ricotta Flatbread Pizza is a tasty, vegetarian lunch or light dinner ready in less than 30 minutes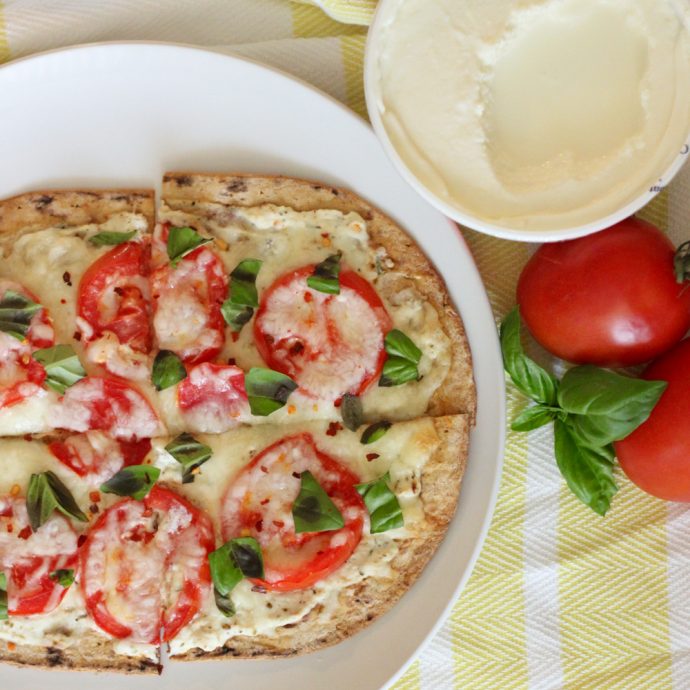 August is not a month people are known to pull out the apron and cook all day in the kitchen. Back to school, end of summer, crazy heat, it all points to the "please don't make me spend over 30 minutes in the kitchen"
With that in mind, I made some pizza. Probably one of my favorite meals to make when I have no time or no desire to cook.
When I was in grad school, I would come home from class at lunch and make this pizza because it takes less than 30 from start to finish. Then I'd enjoy and the whole time I'd think, "Oh how I love this flatbread pizza"
And then I forgot about them. I have no idea why. It was around the time where I was thinking about starting my blog and trying new recipes all the time. Maybe that was it.
That being said, there's no excuse for not eating more flatbread pizzas. They're just so dang easy! I'm bringing the flatbread pizzas baaaaaack
The key to a flatbread pizza or any really thin crust is by not overdoing the toppings. Plus, a layer of cheese before you put any toppings on. You don't want a soggy crust.
Personally, I like using ricotta as my base/sauce instead of tomato sauce because it has less moisture and won't make my crust a soggy mess. Ick.
So I put my thin layer of ricotta (with added yummy seasonings) and then top it with some tomato slices and some shredded mozzarella or cheddar – whatever's in my fridge. Ok, both are always in my fridge. I use the one that'll go bad first.
Anywho, I love seasoning the ricotta because it gives your pizza a little bit more pizzazz; plus, it takes all of 30 seconds to do.
You also want to remove any extra seeds or juices from the tomato before putting it on your pizza. I slice them and let them sit on a paper towel to absorb any excess juice. It does the trick.
To learn more tips plus grab the recipe, head over to the My Cooking Spot blog for all the details!!
**Click here for the recipe**
Meme